Posted by lhobson in Emotions, Relationships | 0 comments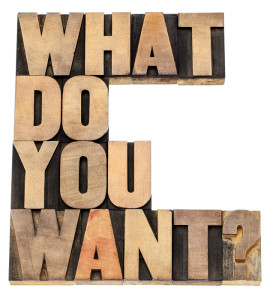 What do you want? The answer to that question can make a huge difference in your life. We all know that's true when it comes to setting goals, making plans and overcoming obstacles. We don't always use the concept when it comes to our relationships. What if you were to ask yourself that question until you get a clear, reasonable answer?
 Consider this scenario:
My husband never pays attention to me.

What do you want?

I want him to pay attention to me

What do you want?

I want him to listen when I talk
What do you want?
When I am telling him how my day went, I want him to stop looking at the computer, texting or checking email and look at me. I also want him to stop saying umm hum, that's nice and respond to what I'm actually saying.
 Trust me ladies, your husband will appreciate you being clear instead of confusing. Rather than just getting angry and expecting him to figure out why you are angry, try telling him exactly what you want.