Viewing posts categorised under: Resilience
Posted by lhobson in Confidence, Determination, Resilience | 0 comments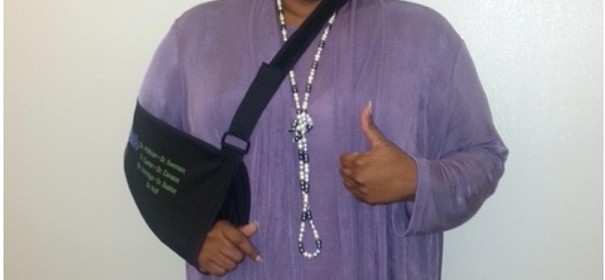 29.07.15
9/11 will always be memorable to me for two reasons. First, of course, is the 2001 terrorist attack on the Twin Towers in New York City and the Pentagon in Washington D.C.  However, 9/11/2014 is equally unforgettable for me. That was the day I fell and broke my right (dominant) arm.
On the morning of my accident, I had acted on my commitment to step things up a notch in my business and spent hours setting various projects in motion. Then I went out that evening and broke my arm. It was devastating. Those projects were the foundation for the success I planned to attain in 2015 and they had to happen soon. But I was in a sling strapped to my body, unable to move my right arm and unable to do very much with my left. There was a bruise from the crook of my arm to my armpit the color of ink.
The "woe is me" syndrome kicked in big time. I could not believe God had allowed this to happen to me. He and I were of one accord about His plans for my life; there was no way a broken arm could be a part of the plan.
Dressing by myself for the first time took 20 minutes just to get into my underwear. The experience made me sincerely want to go back to bed but I was going to a meeting I could not miss. Through tears of pain, frustration and discouragement I cried out "Lord you've given me so much to do. Why must I do it with a broken arm?" His reply was "You're the resilience expert, go be resilient."
He was right. Resilience has been a relevant subject to me for most of my life.
The topic peaked my interest when working with middle school students who lived in dysfunctional but non-abusive households. They were negatively affected by the family issues but not enough to be removed from the home. Resilience was the attribute that would allow them to survive and thrive in those types of environments. I also did my doctoral research on resilience and when you spend years studying reading, researching, and writing on a certain topic you are considered an expert.
I realized that God had just given me another opportunity to practice what I preach.
It was time to severely limit my use of the words "I can't." I began having the following dialogue with myself several times a day. "I can't do it." "Yes you can, think about it."
I got determined and creative. I slept on the other side of the bed, re-thought my hairstyle, how I cooked, drove, and used my cell phone and computer. I went back to Pilates, Zumba and Bollywood dance classes modifying all the way; but I was there. My classmates helped me get in and out of my shoes and change from my "driving sling" (which allowed a little movement) to my "dancing sling" (which kept the arm from moving).
Ever the diehard diva, creativity was crucial when it came to dressing stylishly. It was fall and I needed a coat that could accommodate the sling so I searched online and found a stunning poncho. When I couldn't face putting the injured arm in a fitted sleeve or pulling anything over my head the search was on for sleeveless blouses that fastened in front. There were two beautiful blouses that buttoned up the back. The tags were removed so they could be worn backwards.
Let me be completely candid with you. I did NOT simply vanquish every obstacle and get everything right. There were lots of times I spent crying and there were several days in bed with the covers over my head. I'm not superwoman. However, between my bouts of self-pity, God blessed me with the strength to get up and keep moving forward, even when I didn't know exactly where I was going or how I would get there.
I shared this to let you know that you have all the resilience, creativity, strength, power and whatever else you need right now. God is just waiting for you to trust Him enough to use it. Consider this: instead of saying "I can't do this" try saying, "I can't do it this way." Then get still long enough to allow God to show you alternatives.