Momma Sayings and Life Reflections
What are critics saying about Momma Sayings and Life Reflections?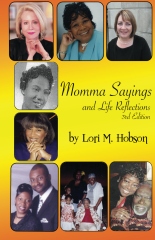 Just about everybody has a friend or relative that has a favorite expression. Some of them you hear so much you know them by heart.  Lori M. Hobson has taken those expressions and created a down-to-earth collection of wisdom and knowledge. Lori uses her invaluable experience as a counselor, life coach, and trainer to teach life lessons
Momma Sayings and Life Reflections by Lori M. Hobson has put a dynamic new twist on Life's Little Instruction book. Lori took everyday witticisms shared by her family members and those of others and combined them in a way that both entertains and educates. In the introduction, she explains how the book grew from her habit of sharing wisdom passed down to her by her mother during counseling sessions with her clients.
Reading this book made me think about some things and rethink others. It validated many of the things I've always believed while challenging me to think in new and different ways. Lori is transparent and courageous in her willingness to share her own experiences as well as the experiences of others. Her witty and genuine style of storytelling will take you from laughter to tears and back again.
The Faith Chapter brought up things that I have heard from the pulpit and read in the bible. The chapter on Parenting offered a combination of good sense, street sense, common sense, and book sense. The Chuckle Factory chapter made me laugh out loud. The Woman to Woman chapter dispensed the kind of insight that we all want our daughter to learn. The Chapter entitled Words of Wisdom from the School of Hard Knocks makes suggestions that, if followed, may "soften the blows" for some people. In addition to the sayings, each chapter includes an instructional life reflection.
There is a little something for everyone in Momma Sayings and Life Reflections. It would make a great selection for your book club, a surefire way to prompt lively discussion among your members. It would also make a great gift for friends and family members of all ages.
Purchase a copy of Momma Sayings and Life Reflections